If screen time reports are any indication, people are spending a ton of time on their phones. (I blame TikTok.). You can save money by purchasing Appmysite Lifetime Deal.
Mobile apps are a great way to connect with customers wherever they are, but custom app development takes a ton of time, money, and know-how.
If only there was a tool that let you make your own app without worrying about writing code or digging into development.
Introducing AppMySite.
TL;DR
Quickly convert your WordPress and WooCommerce website into an app
Alternative to: Appmaker.xyz
Completely customize your app design, content, and layout in record time
Best for: Website owners and ecommerce stores that want high-quality mobile apps for their WordPress and WooCommerce sites
Related categories: Ecommerce, Web Development, WordPress
Overview
AppMySite is an AI-powered mobile app builder that lets you create high-quality, customizable apps without writing a single line of code.
Turn your WordPress or WooCommerce website into a native app to grow your online presence and reach more customers.
Building an app has never been easier—you can create and customize your app in minutes.
After you're done getting your app just right, launch it on the Google Play Store and the Apple App Store in no time.
Choose the design options that fit your brand to create stunning app icons, splash screens, and more!
If you've ever used a badly designed app or mobile site, you know how important it is to have a good quality app.
With a range of professional design options, AppMySite helps you create high-quality apps with custom icons, splash screens, sign up screens, and more.
Personalize your new app by uploading your own artwork or using premium designs to get the perfect aesthetic.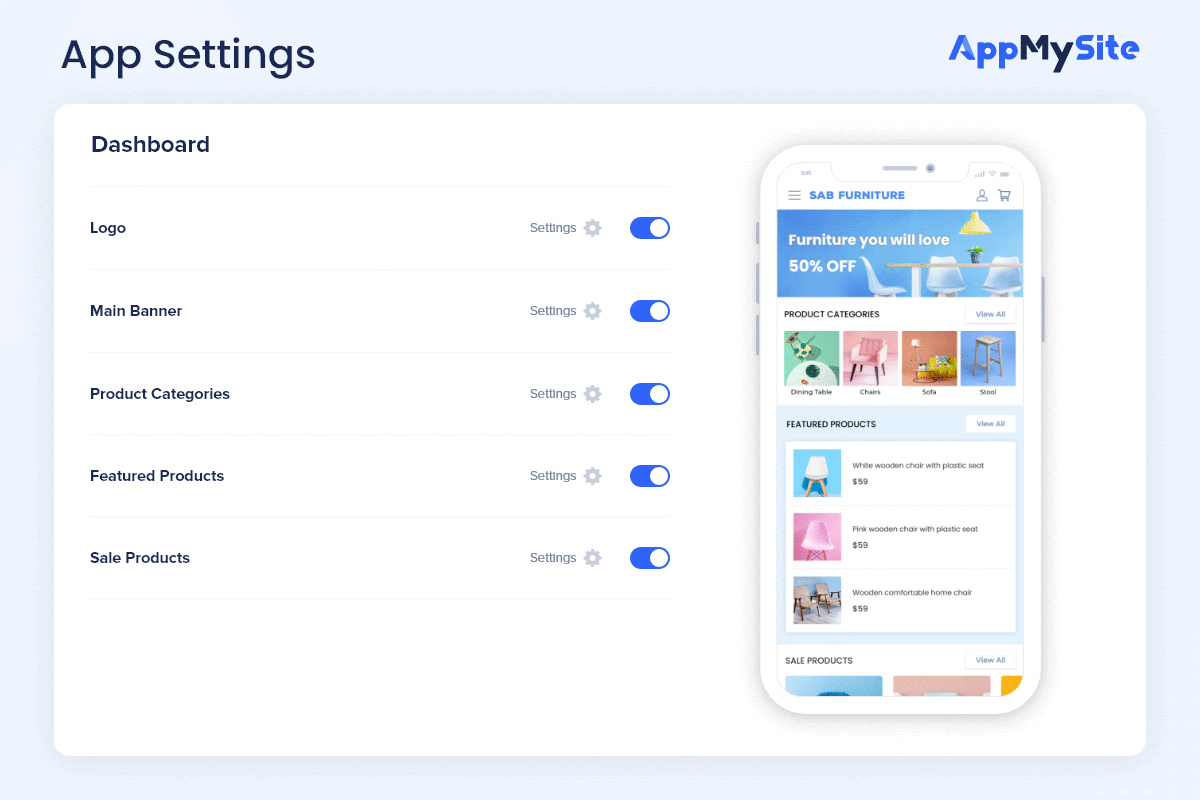 Configure your app settings and finetune your app to fit your users' needs.
AppMySite lets you fine-tune your app to align with your business goals and provide a great customer experience for your users.
From customizing your home screen to configuring your app menu, pages, blogs, categories, and more, it's never been easier to build a great mobile app.
If you're using your app for ecommerce, AppMySite also enables you to manage your product listings, users, product info, and checkout settings.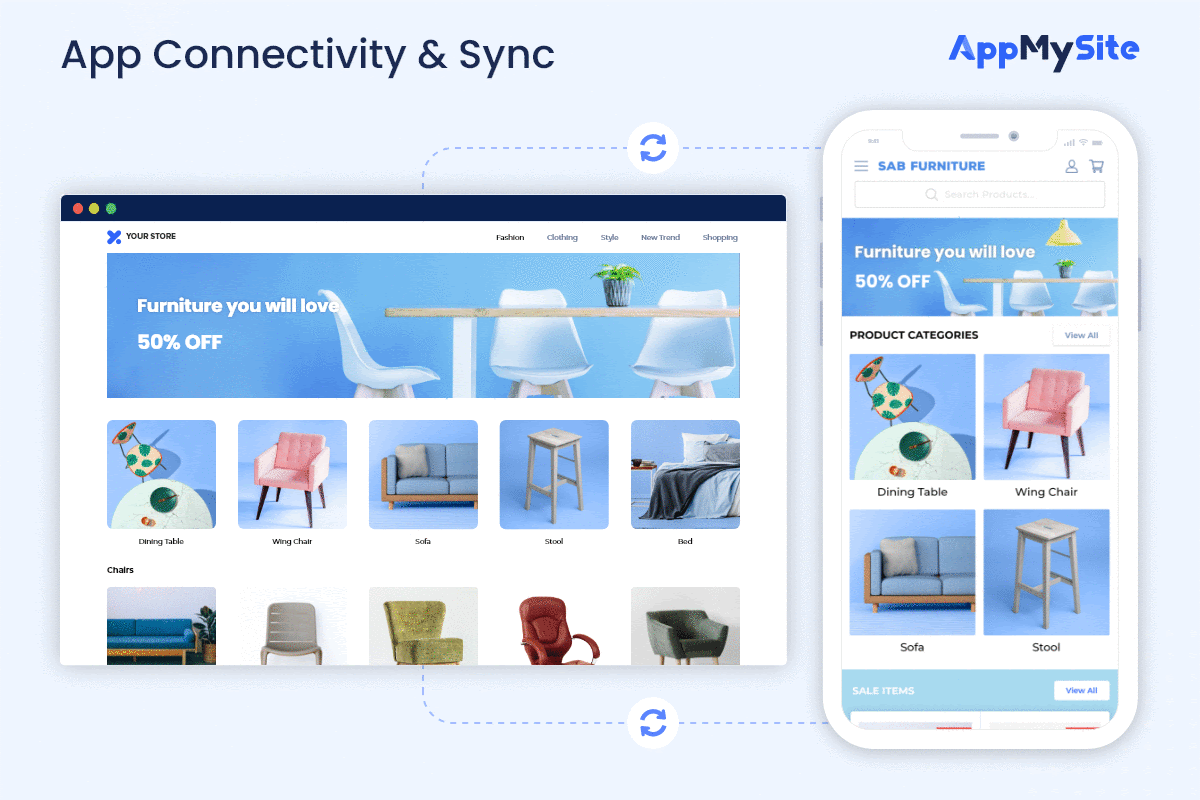 Instantly connect your website and your app with the AppMySite WordPress plugin!
Take the guesswork out of connecting your site with your mobile app. Justdownload and activate the AppMySite WordPress plugin to instantly connect your website and your app.
You can automatically populate your app with all the content from your site, including your WordPress main menu, and see all changes instantly.
WooCommerce users can connect their websites by generating REST API keys to automatically sync all their products and categories with the app in real-time.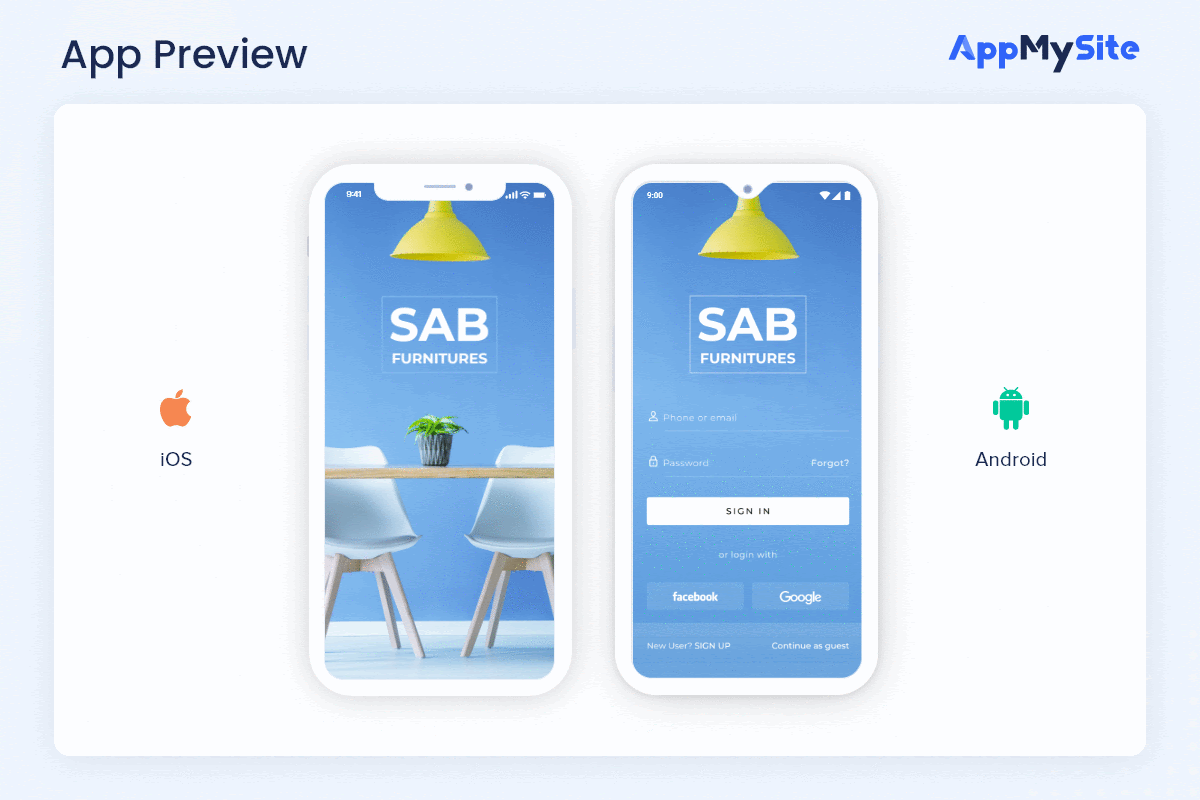 Get firsthand experience of your app with live previews and tests for both iOS and Android apps.
AppMySite is packed with powerful preview features, including cross-platform testing, mobile device emulators, and live app previews.
You can review your app performance before publishing, see live previews of every update, plus test both Android and iOS apps to replicate real mobile experiences.
You'll even be able to supercharge your apps with add-on products like white labeling, language support, user management, and consent forms.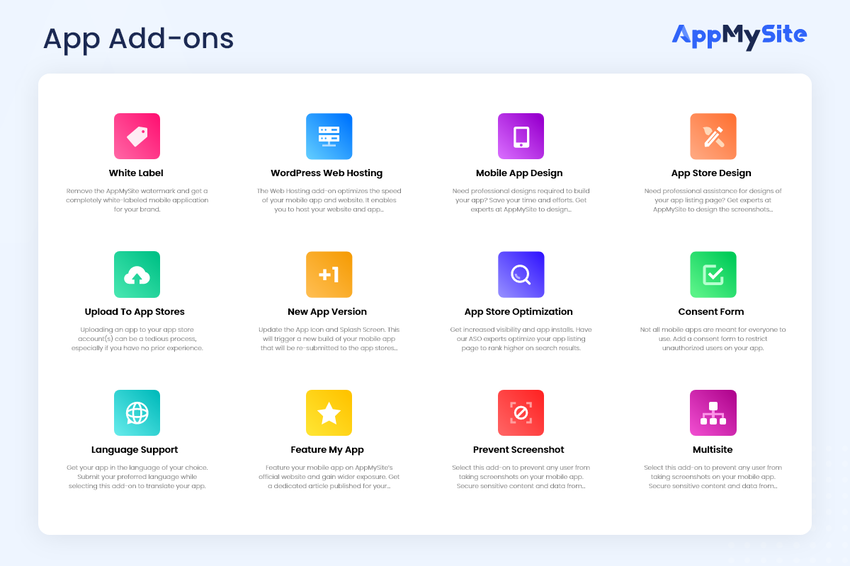 Create apps that perfectly align with your business goals with awesome add-on products and features!
Building a great mobile app might feel like building a spaceship from scratch. ("Turns out rocket science is slightly more difficult than I anticipated…")
With AppMySite, you get a user-friendly, scalable solution to convert your websites into premium native mobile apps in only minutes.
Create your dream app hassle-free.
Get lifetime access to AppMySite today!
P.S. Learn how to use AppMySite like a pro by catching our training webinar replay here: Webinar Replay!
Plans & features
Deal terms & conditions
Lifetime access to AppMySite
All future Pro Plan updates
No codes, no stacking—just choose the plan that's right for you
You must activate your license within 60 days of purchase
Ability to upgrade or downgrade between 5 license tiers
GDPR compliant
Previous AppSumo customers who purchased AppMySite can upgrade their license to increase their feature limits
Limited-time special pricing starting at $49. Pricing increases on 7/15/22 at 12 pm CST
60 day money-back guarantee. Try it out for 2 months to make sure it's right for you!
Features included in all plans
Ready-to-publish app
Mobile platforms (Android & iOS)
Distribution license (Android & iOS)
Web platforms (WooCommerce and WordPress)
Personalized app design
Real-time sync with website
Real-time simulation
Dynamic app menu
Payment gateway support
Social media integration
Unlimited app revisions
Collaboration
Any website to app conversion
Checkout Other Appsumo Products