Extended Access to this deal is exclusively available to AppSumo Plus members for a limited time.
If you are not an AppSumo Plus member, you can join now and purchase this deal before Extended Access ends on June 17th, 2022 at 8:00am CDT.
As a developer who's focused on the big picture, you shouldn't be sweating so much small stuff that your office doubles as a sauna. ("Is it 130 degrees, or are we just on deadline?")
Without a tool that handles crucial tasks like documentation and maintaining a codebase, you'll waste time on minutiae and deliver lower-quality results.
You need an app suite designed to help you write smarter code and work better with your team while integrating with your established dev software for a seamless experience.
Meet AskJarvis.
Write code faster with tools like syntax and documentation generators that work across programming and natural languages
Use the tool as an extension to access key features directly from your IDE editor, plus save your work in a searchable codebase
Alternative to: GitHub Copilot
Best for: Developers, product managers, and web designers who want to boost team efficiency and write higher quality code
AskJarvis is a development assistant that helps you code faster with syntax and documentation generators, a codebase, IDE extensions, and more.
AskJarvis can generate syntax across programming libraries with one click, saving you tons of time looking through documentation and searching for examples.
For simple commands, all you have to do is type in your query and let AskJarvis generate the syntax in the code you need.
AskJarvis can also serve as a partial app logic creator for more complex queries, like generating code for step-by-step algorithms.
If you're working in multiple programming languages, harness AskJarvis' ability to automatically translate snippets of code from one standard language to another.
The tool supports queries in natural languages besides English, and you can generate syntax right inside the supported IDEs without needing to copy or paste.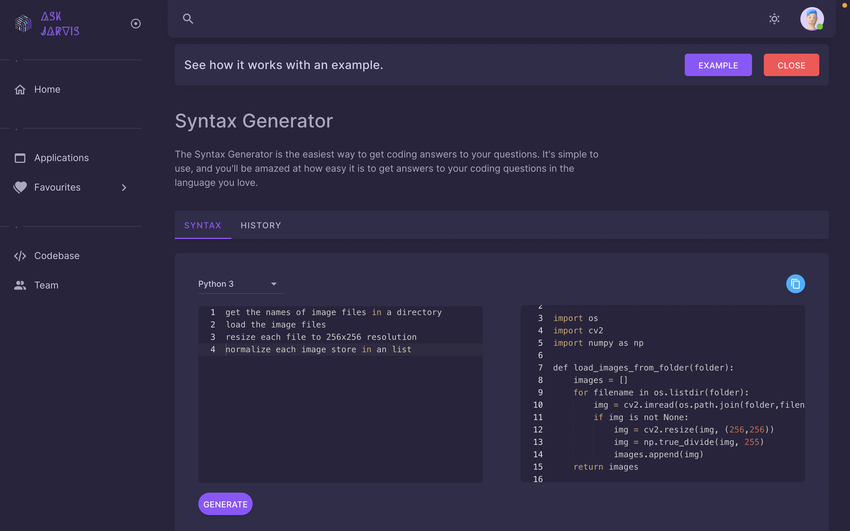 Generate syntax across programming libraries for simple and complex queries in English and other natural languages.
AskJarvis also comes equipped with dozens of tools to streamline your development process, which you can filter by function for easy access.
Quickly generate documentation for any requested code via DocString, Code Explainer, and C# Comments.
AskJarvis is also loaded with capabilities for generating quick code based on your needs, whether it's with JS One Liner, Regex, HTML/CSS, or SQL.
The Time Complexity function analyzes your algorithms and gives you actionable insights into how fast your code will run given certain inputs.
AskJarvis comes with unit test and cucumber test creators, too, so you can streamline the testing process before products go live.
AskJarvis houses all the applications you need for coding, generating documentation, and testing final products
AskJarvis can also function as an extension, allowing you to access its essential features directly from your IDE editor.
Use the core applications like syntax generator, time complexity, and DocString generator without needing to open a separate browser window.
The tool integrates with Visual Studio Code, PyCharm, IntelliJ IDEA, and RubyMine, so its extension is ready to answer queries directly from the editor and boost your efficiency.
Add AskJarvis as an extension in your preferred IDE and access essential features without leaving your editor.
AskJarvis' codebase stores every piece of code that you and your team create, giving you a searchable database of code snippets for handy reference in the future.
You can also share properly formatted code with your team in real time directly within the platform, so you don't waste time toggling between different messaging apps to communicate.
It's easy to search, view, and filter every bit of generated code and convenient to copy or delete code snippets as needed, too.
The codebase allows you to search, copy, and share every piece of code you and your team generate.
For complex development work, you need more than gimmicky solutions to boost productivity. ("This tomato-shaped timer just makes me want pasta.")
With AskJarvis, you'll get a coding assistant that empowers your team to work smarter with tools like syntax generators, code translators, IDE integrations, and a searchable codebase.
Deliver better code in less time.
Get lifetime access to AskJarvis today!
Plans and Features
Deal Terms
Lifetime access to AskJarvis
All future updates to Hacker Plan (Tier 1) or Unlimited Plan (Tiers 2 and 3)
No codes, no stacking—just choose the plan that's right for you
You must activate your license within 60 days of purchase
Ability to upgrade or downgrade between 3 license tiers
GDPR compliant
Only for new AskJarvis users who do not have existing accounts
60-day money-back guarantee, no matter the reason
Features Included in All Plans
10+ applications
10+ languages
AI assistant that provides code suggestions
Includes the following applications: Generator, Translator, SQL Generator, Docstring, Time Complexity, and JS One Liner
Includes the following integrations: PyCharm, Intellij IDEA, JS, Java, HTML, and CSS