AdminPopular is a Creative Bootstrap 5 Admin Template which will save your away of your time and energy. Utilize this bootstrap dashboard template to its maximum capacity and open a totally new universe of opportunities for yourself. AdminPopular gives you an enormous number of special elements. It is a very basic and lightweight admin dashboard template. Fast adaptable and high expedient dashboard layout. You can use this premium admin dashboard template in any kind of industry.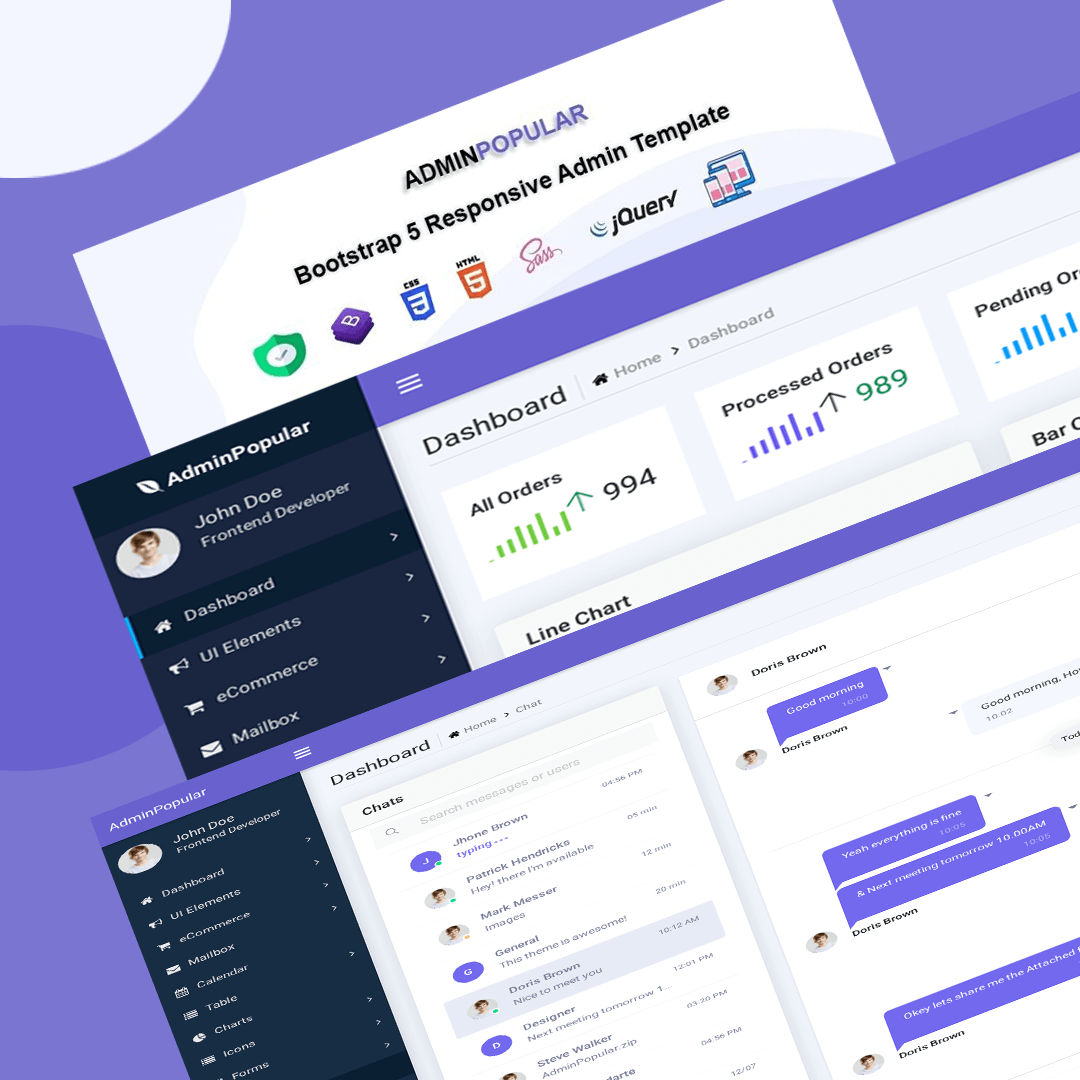 Why 'AdminPopular' is best Admin template
Admin Template Features List:
Creative Dashboard & Unlimited Widgets.
Use Bootstrap 5 Framework.
Dark and Light Themes of Dashboard.
Fully Responsive pages.
Easy to customize.
Lots of Responsive Tables, forms, animated charts, eCommerce pages, Card, Creative Mailbox, and many more admin UI Components.
Validation Forms.
Responsive Data table.
TinyMCE text editor.
Summernote text editor.
Font Awesome icon.
Themify icon.
Simple line icon.
Awesome mailbox.
Chat list.
Event Calendar.
Chart.
Timeline chat widget.
Bootstrap Modal.
Tab and accordion.
Sweet modal alert.
Multi-style Google map.
Multi-style Vector map.
Invoice Page.
User Profile.
Innovative Login and register.
W3 Validate.
Cross Browser Optimization.
Well-organized codes.
Pre Made Admin Dashboard Pages:
Login Page – Perfect

bootstrap 5 dashboard

login page to make authenticate for the user.
Shop –  AdminPopular

bootstrap 5 admin panel

has prebuilt shopping components.
User Page– Admin dashboard template providing your user profile page to view all single-user information.
Inbox –Responsive email application template. You can conversation using email.
Chat – Ready chat responsive chat application page for providing customer support.
Accordion and Tab – This admin template has an outstanding accordion to and tab feature which will help you to enhance your business energy.
Calendar – This B

ootstrap 5 admin

comes with a fully functional event calendar. You can manage all events with a quick easy process.
Invoice – Get prebuild invoices with creative design and make shopping vouchers for your customers.
Error – Modern "404" not found page.
Bootstrap 5 Admin Template Browser Compatibility
Chrome(Windows, Mac, Linux)
Firefox(Windows, Mac, Linux)
Safari(Mac)
Microsoft Edge
AdminPopular Bootstrap 5 Responsive Admin Template will provide you with a huge number of components. you can utilize easily all dashboard elements of bootstrap. You'll simply use it with no hesitation. The only and fastest thanks to building an internet UI for your dashboard. If you face the issue to install the admin template then please read also the beginner guide to HTML.
Get quick support from.