With all the privacy laws out there, keeping your business above board can feel like you're playing by a super confusing rulebook. ("Too bad there's no 'get out jail free' card in real life.")
Unfortunately, paying for professional legal expertise to help you navigate online privacy law is beyond your budget.
If only there was a platform that could magically solve all your data privacy woes in a few clicks—no legal or coding knowledge required.
Make way for illow.
TL;DR
Customize a multi-language cookie banner that fits your branding and adopts seamlessly into your UI—no coding required
Create privacy policies, manage custom data requests, and remain compliant across any law changes with automatic updates
At-a-glance
Overview
Illow is a cookie banner that makes your website compliant with GDPR, CCPA, LGPD, and data-privacy regulations in just a few minutes.
With illow, you can display a branded cookie banner that's also tailored to each visitor, based on their location, browser language, and regional legislation.
Because all data requests are adjusted to match the user's local privacy regulations, you can be confident that every user has the rights specific to their local laws.
It's super simple to make your site compliant with all data-privacy regulations—just copy-and-paste the code or integrate the free WordPress plugin!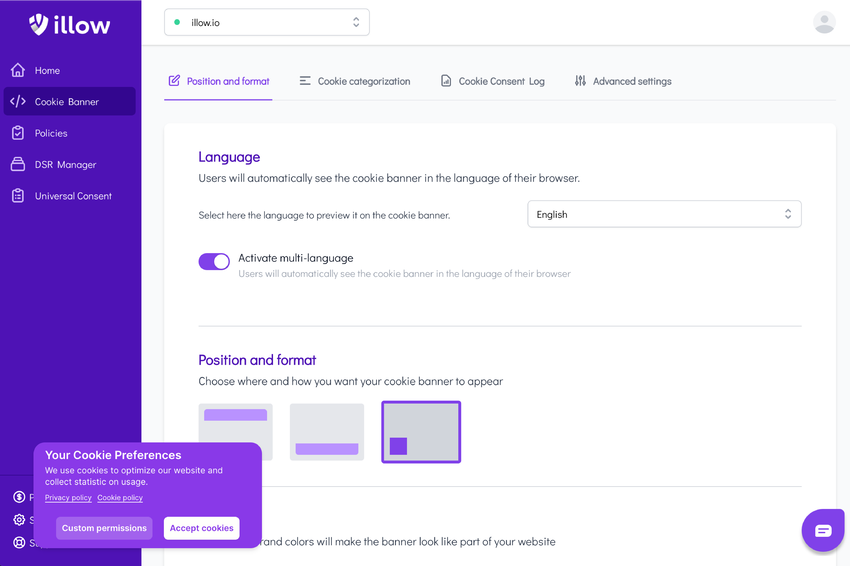 Customize your cookie banner's language, colors, and placement to fit your branding.
Best of all, illow automatically updates your cookie and privacy policies in the event of any law changes.
Plus, you'll be able to seamlessly create, link, or attach your existing policies to your banner, giving you more of a hands-on approach.
Automatically categorize all cookies using illow's library of over 50,000 cookies, sparing you from hours of mind-numbing scrolling and tedious manual sorting.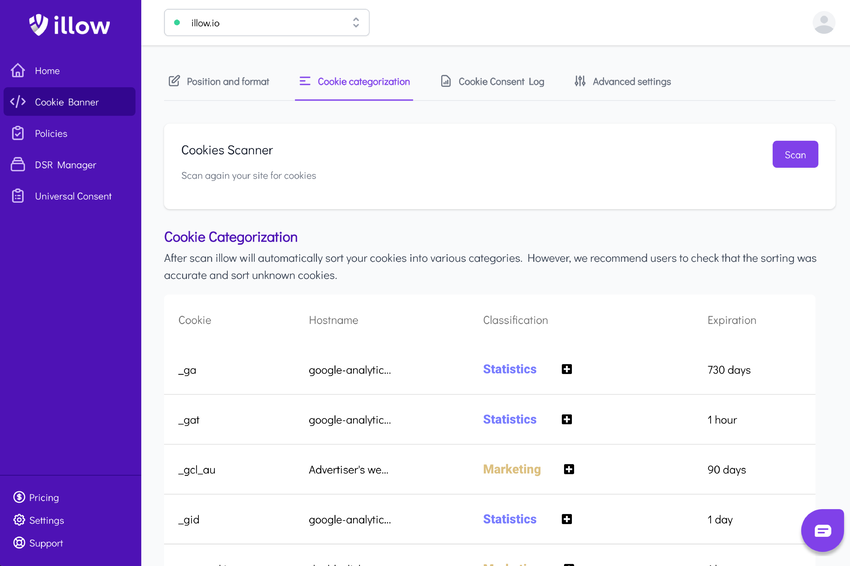 Automatically categorize cookies with illow's large database of 50,000+ cookies.
You'll also be able to allow users to organize, centralize, and manage their data in nine different ways, including data deletion, data portability, and a full information request.
Customize your data request form with additional questions to gather visitor feedback and create a better user experience.
And because illow stores every consent in a comprehensive cookie consent log, you'll always have proof of compliance for any privacy audit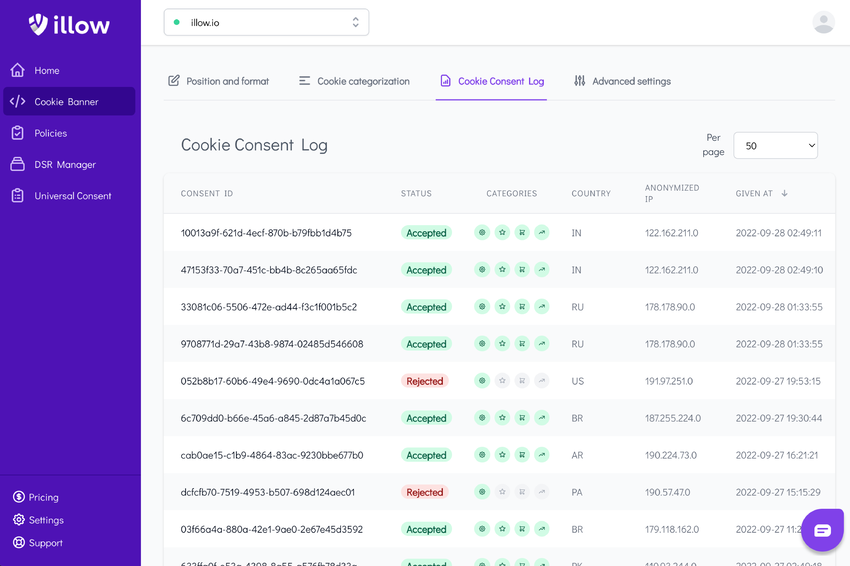 Keep track of every action in the cookie consent log to stay compliant.
Using illow's Consent Optimization Mode, you can decide if you want to show consent banners exclusively to visitors in required countries, or to all visitors with a single click.
You'll also be able to block all cookies and scripts until the user consents, in case your online business needs to comply with the highest possible privacy standards.
Plus, this platform offers a CCPA compliance regulation mode, so you can display a banner dedicated to California users—without activating complicated scripts or cookie policies.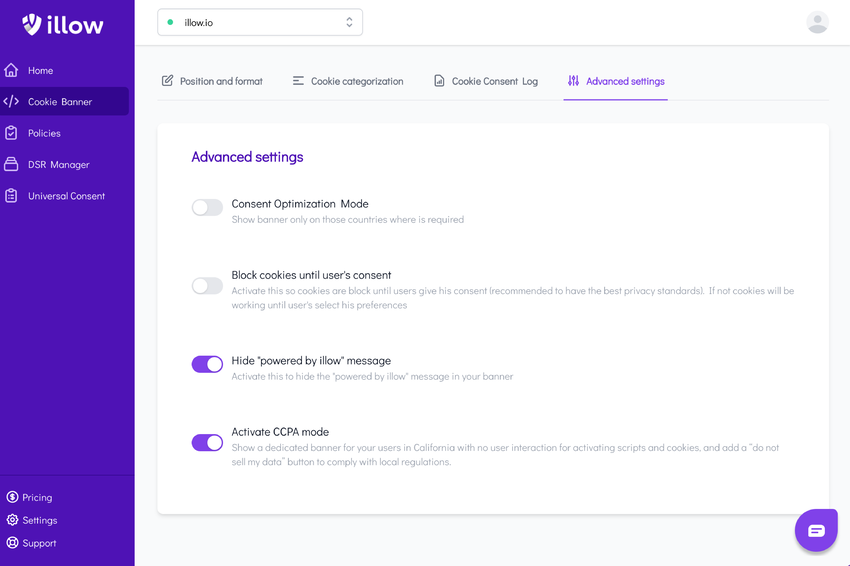 Enable various options such as CCPA banners
When you've got a dynamic cookie banner on your site, staying compliant is easier than making cookies from Betty Crocker's cookie mix. ("I have no idea how this works, but I love it.")
With illow, you get an all-in-one cookie banner and consent management platform that automates privacy operations, so you can make your site compliant in just minutes.
Build trust online.
Get lifetime access to illow today!
Plans & features
Deal terms & conditions
Lifetime access to pillow
All future Growth Plan updates
No codes, no stacking — just choose the plan that's right for you
You must activate your license within 60 days of purchase
Ability to upgrade or downgrade between 3 license tiers
GDPR compliant
60 day money-back guarantee. Try it out for 2 months to make sure it's right for you!
Features included in all plans
Automated cookie categorization
Cookie policy
Consent logs
Create or link your privacy policy
Cookie banner customization and logo
Integration with WordPress and more
Multi-language cookie banner
Data request form and dashboard
Privacy alerts
Compliance: GDPR, LGPD, and CCPA
Checkout Other Appsumo Products