As a coach, it's hard to support and keep track of all your clients' needs. ("Okay, so you had the personal development series, you had the career pathing course, and you ordered the salmon.") You can easily Build and manage your coaching program with Upcoach software.
But short of cloning yourself, how do you grow your coaching program and scale your impact?
Imagine a modern transformation platform that manages your community, meetings, and courses, so you're able to scale your impact chaos-free.
Get it done with upcoach.
TL;DR
Build customized online coaching programs with tasks, program templates, meetings and agendas, and habits
Alternative to: Kajabi, Teachable, and WordPress
Manage all clients and groups from one platform, so no information falls through the cracks
Best for: Business, lifestyle, and education coaches who want to systemize and streamline their coaching programs
Related categories: Client Management, CRM, Course
Overview
Upcoach is a modern transformation platform that lets you build and manage your coaching program with courses, chat, meetings, and tasks.
With upcoach, you can house all your courses and training for individual or group coaching programs to transform the lives of your clients.
Create courses with multiple modules and lessons. You can even choose the pace for completing each course by making it all available at once or dripping it out over time.
You'll be able to assign interactive worksheets, to-dos, and new habits alongside the training so they're not just downloading PDFs or copying Google Docs.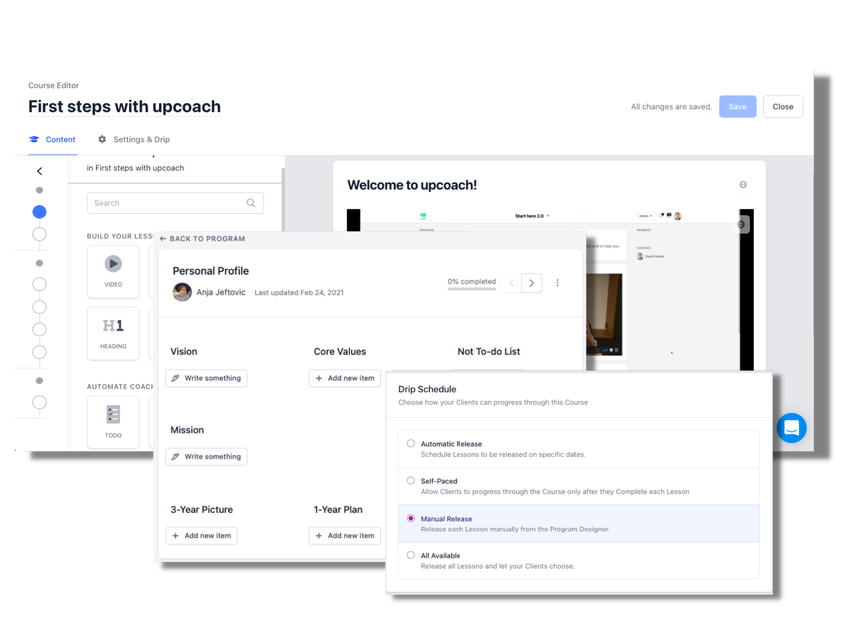 Create courses and assign to-dos, habits, and worksheets to ensure clients are learning and staying engaged.
Upcoach lets you build out your program with a drag-and-drop editor, so you can create your own no-code layout.
Use a template or create a program from scratch based on your unique needs and program structure.
You'll be able to build a variety of program types, including one-on-one programs, group programs, cohorts, and masterminds.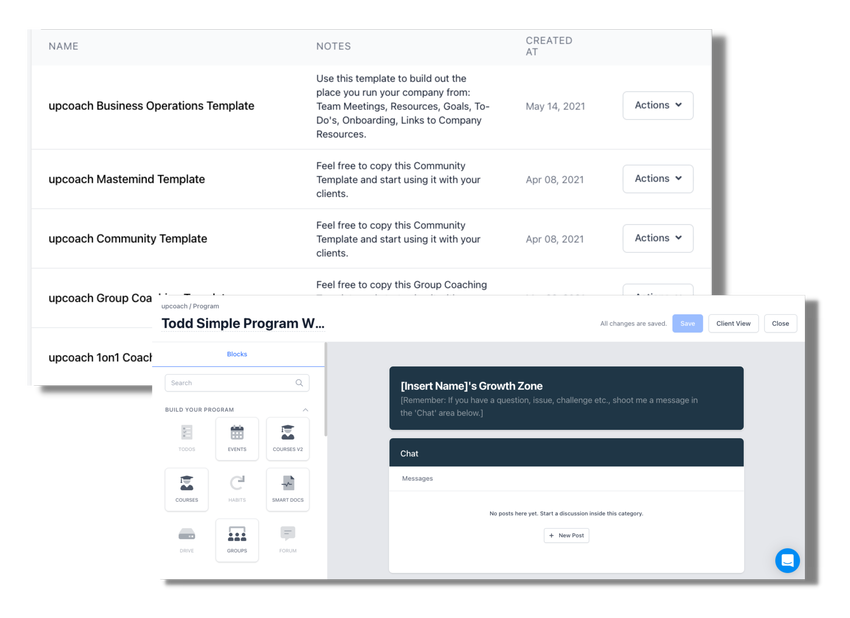 It's super easy to lay everything out for your program using the drag-and-drop editor.
You can organize and schedule your meetings, as well as see an overview of all past and upcoming meetings, on the Events Calendar to avoid any scheduling conflicts.
Create a meeting agenda from scratch or use a premade template to keep your meetings or events running smoothly. This also gives your clients a place to ask questions and collect wins.
Upcoach also lets you connect meeting agendas to your Google calendar and add a Zoom link to invites, so clients can join meetings with the click of a button.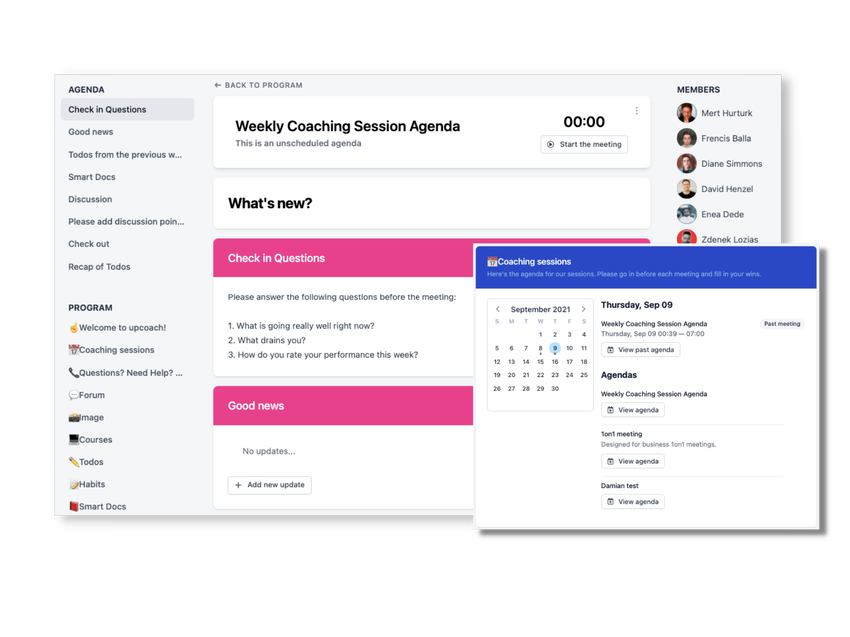 Keep everyone on the same page by organizing and scheduling meetings with agendas, right from the platform.
Build and manage your coaching program:
With upcoach, you're able to track any client's progress and engagement using a Kanban board—making this more than a passive consumption system.
Keep up with client progress using to-dos, habits, and worksheets, so they can implement what they've learned in the course and during coaching sessions.
You can also encourage social accountability and add motivation by allowing members to see each other's commitments.
And because communication is so important for community-building, upcoach lets you chat with clients using one-on-one, group, and admin chat features.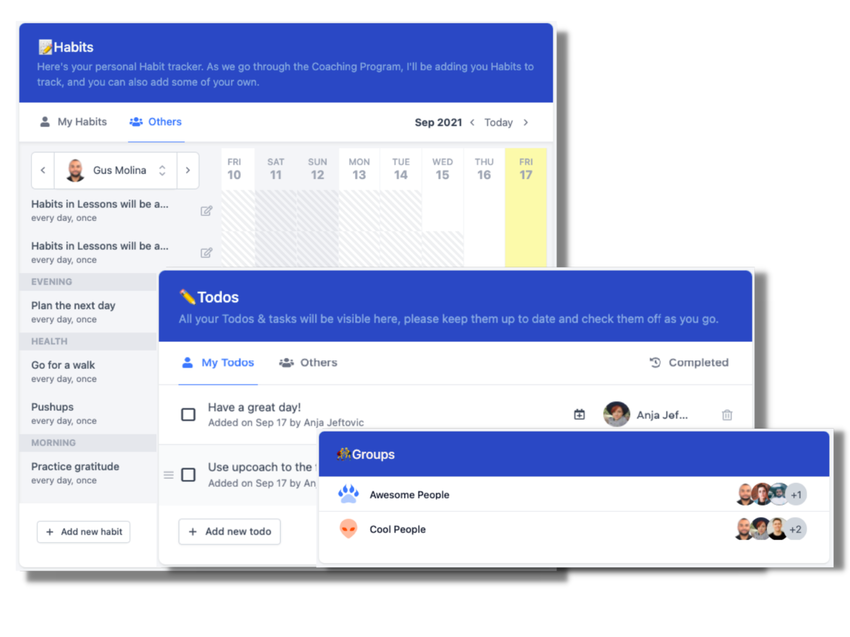 Track client progress with to-dos, habits, and worksheets that help them stay motivated!
In order to help your clients meet their goals, you need a platform that helps you achieve all of yours. ("Goal #1: Be the best coach in the game. Goal #2: Get eight hours of sleep per night.")
Upcoach houses all of your courses, training, to-dos, groups, and communication history, so you can focus on what you do best—helping your clients flourish.
Scale your coaching program with ease.
Get lifetime access to upcoach today!
Plans & features
Deal terms & conditions
Lifetime access to upcoach
All future Grow Plan updates
No codes, no stacking—just choose the plan that's right for you
You must activate your license within 60 days of purchase
Ability to upgrade or downgrade between 2 license tiers
GDPR compliant
Only for new upcoach users who do not have existing accounts
Limited-time special pricing starting at $79. Pricing increases on 7/25/22.

60 day money-back guarantee. Try it out for 2 months to make sure it's right for you!
Features included in all plans
Courses and training
Program builder
Agenda and meetings
Accountability and encouragement tools
Communication
Client management
Brand customization
Administration and integration
Templates
Checkout Appsumo Other Life time deal products.