PaymentTory is a WooCommerce Payment Getaway. You can add easily a WooCommerce payment gateway to your store. The paddle is a wonderful payment getaway service where you can transfer money highly safe and secure method.
Are you searching to get a different type of payment in one way at the same time?
Now is the time to try stand-up paddle providing an opportunity to get paid in one way so that you can collect a huge number of payments in one way.
You can get paid quickly with a paddle when someone pays you with your WooCommerce store. You can sell your product with WooCommerce paddle payment WordPress plugin without any issue. We are using the same plugin for codepopopular.com
Sendbox Payment Window: You if you enable sandbox payment form the plugin settings page then during checkout you will see the test mode payment. in this way you can easily make test payment throw paddle.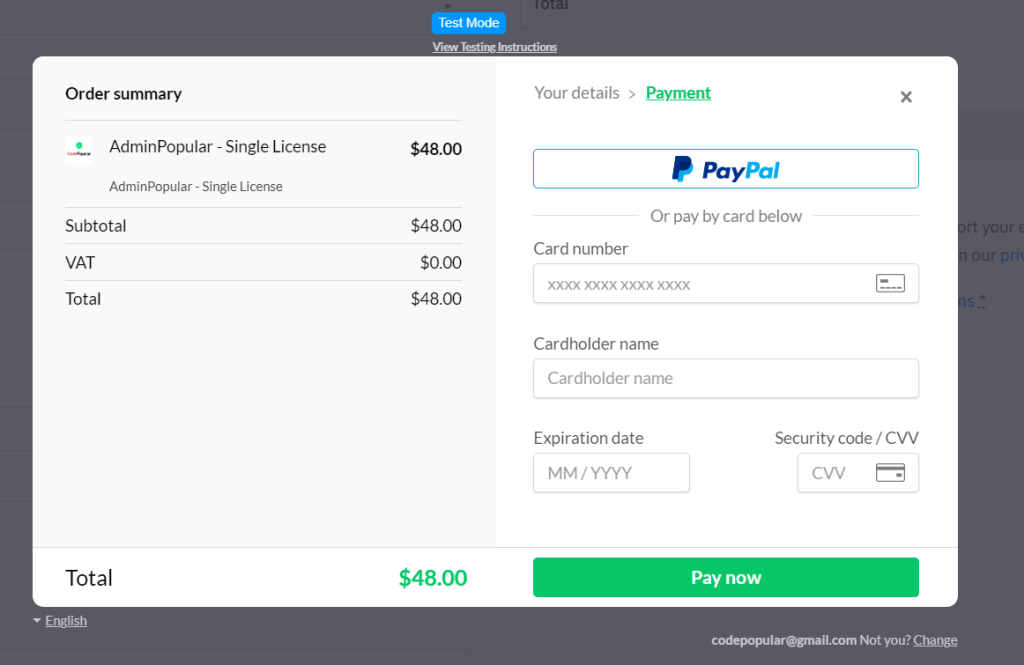 Paddle Live Payment window: If you enable paddle live payment window form plugin settings page then you will see the flowing payment popup during checkout. It is super easy payment process for your wocommerce store.
Why should to purchase the PaymentTory Plugin?
The PaymentTory WooCommerce paddle plugin will help you to get payment via paddle.
This WooCommerce Payment getaway plugin will keep up to date with the latest version.
Premium users will get unlimited support.
You can get more features in the future.
Collect payment with the fast secure and safe method.
if you face a technical issue then instantly can get help.
Plugin Installation Guide:
Download the plugin from codepopular.com
Then upload it to plugin > added new
Then log in to your Paddle.com account.
Make sure your website domain is approved under Paddle.com checkout settings -> Approved domains.
From your site dashboard, go to WooCommerce -> Settings -> Payments.
Click on the Paddle.com payment gateway.
On the next page, enable the gateway, connect it with your Paddle account and finally save.
Now you should see Paddle.com gateway is working on your checkout page.
Why You are Selling Plugin with Low Price?

I'm an Individual freelancer. I don't have much cost to develop this plugin as I'm working on it myself. Few customers already purchased my plugin and they are so happy with me. You can trust me and help me to suggest the plugin features.
How can I get support?
Contact us if you need any kind of help. Contact here