We've all misspelled URLs and landed on error pages…or a completely different site altogether. ("I need some eyebleach after what I just saw.")
But when a visitor gets to your error page by mistake, they'll be gone faster than you can say "404."
Don't lose another potential customer—get a GPS on your website that takes visitors exactly where they want to go.
Meet WP 301 Redirects.
Optimize outgoing links, scan for broken or dangerous links, and automatically redirect mistyped URLs to avoid 404 errors
Manage links, track all your sites, and monitor click stats from one centralized dashboard
Alternative to: Redirection and Broken Link Checker
Best for: Marketers, coders, and web designers who want to improve SEO and user experience on their sites
WP 301 Redirects lets you scan your site for broken or dangerous links and set up automatic redirects, manage affiliate links, and control all your sites from a centralized dashboard.
Even visitors that misspell your URL deserve to find your awesome content instead of a dreaded 404 page.
With the WP 301 Redirects Link Scanner tool, you'll be able to catch broken URLs and disreputable outlinks before you lose visitors to competitor pages.
The link-scanning tool is SaaS-integrated, so you can automatically scan links for every page in case of broken ones that need replacing, or bad ones that need removing.
Plus, the Google Safe Browsing and Alexa Rank API integrations let you sort through content for links to sites with a poor reputation or malware.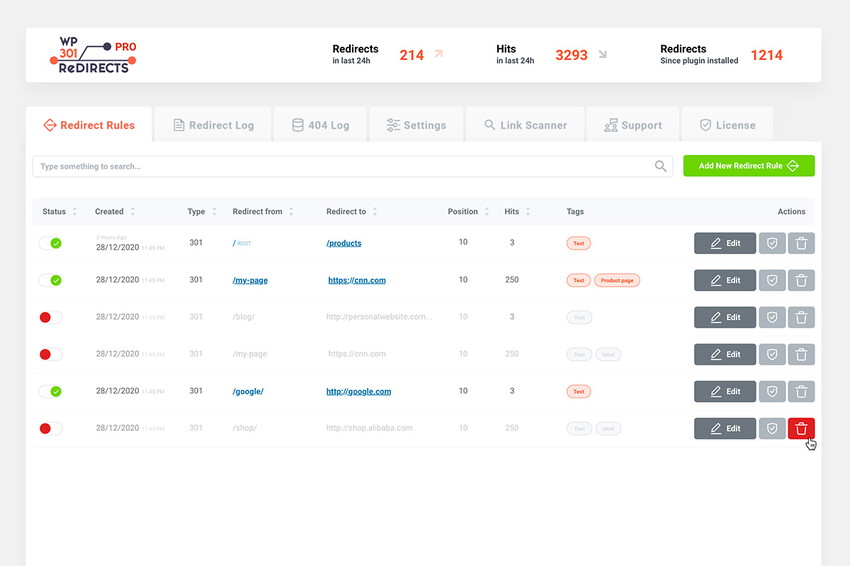 Redirect incorrect links to the right place automatically with the WP 301 Redirects plugin.
For broken internal links, simply install the WP 301 Redirects plugin and all those mistyped URLs will be automatically redirected to the page with a similar URL.
You can also decide how sensitive the plugin is to typos, setting specifics to ensure site browsers land on the right page.
And you'll even be able to create manual redirects for more complex cases—the power is in your hands.
Just find the pages you want to redirect, add the unique destination URL, and the robust plugin will take care of the rest!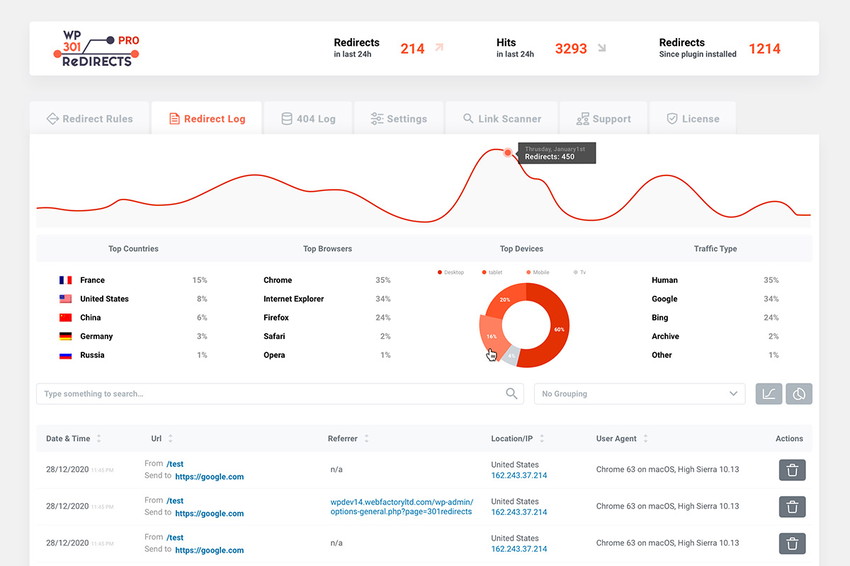 Set up automatic and manual redirect rules to control affiliate links and drive traffic to your site!
Rebuilding a site and changing URLs sounds like a nightmare, but WP 301 Redirects lets you set up redirects instead of rebuilding all your URLs.
Your site visitors won't ever get lost in the shuffle, whether you need to update URLs or adjust site links as your company grows and matures.
Use the Link Scanner tool to find unnecessary affiliate links and then add in redirects to hide extra-long links for a site that actually drives traffic.
You can say goodbye to scary, messy affiliate links and time-consuming site redirects for good and say hello to optimized SEO and improved user experience.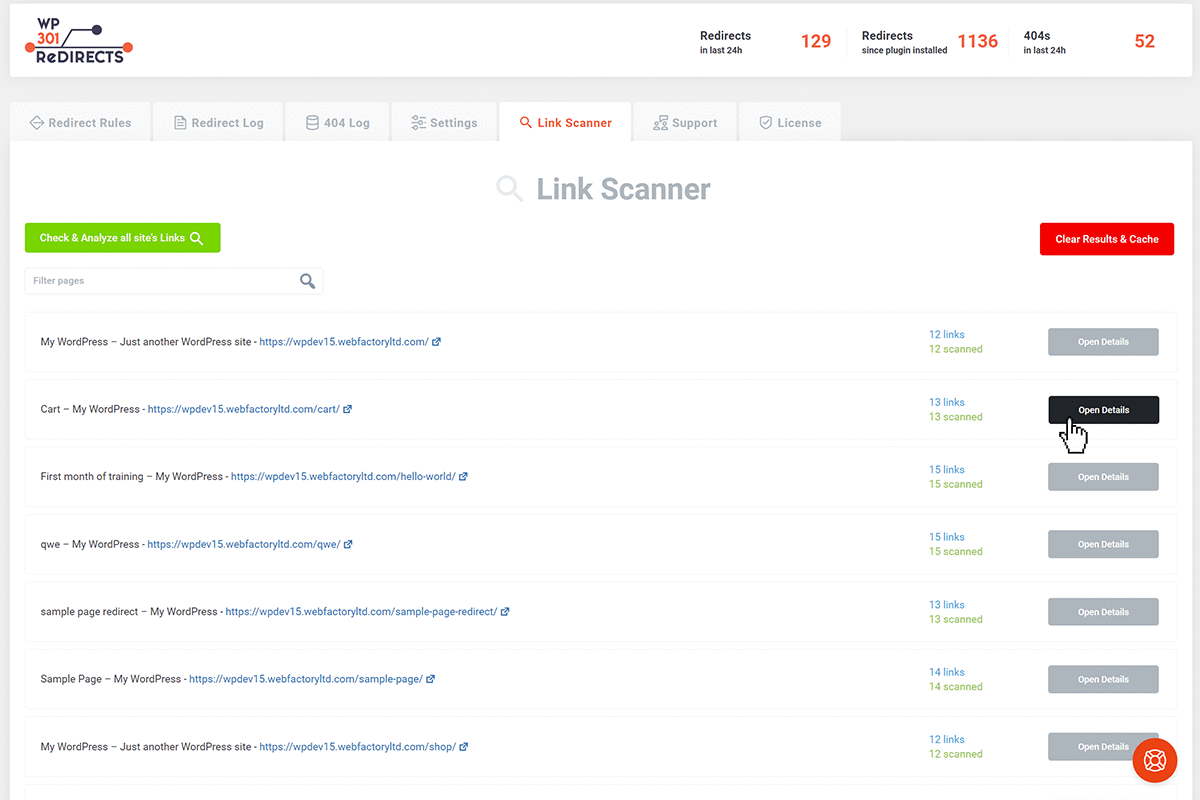 Scan your site to detect links that are hurting your SEO and make improvements based on gathered Link Scanner results.
Whether you're working on one site or managing dozens for clients, it's good to keep an eye on your site performance.
The WP 301 Redirects dashboard shows you where your users are coming from, how many redirects happen each day, which browser visitors are using, and more!
You can even export branded PDF reports to send to clients and show off all your hard work on fixing errors for their site.
The dashboard displays the logs and stats for all the sites you manage under one roof in an easily accessible format.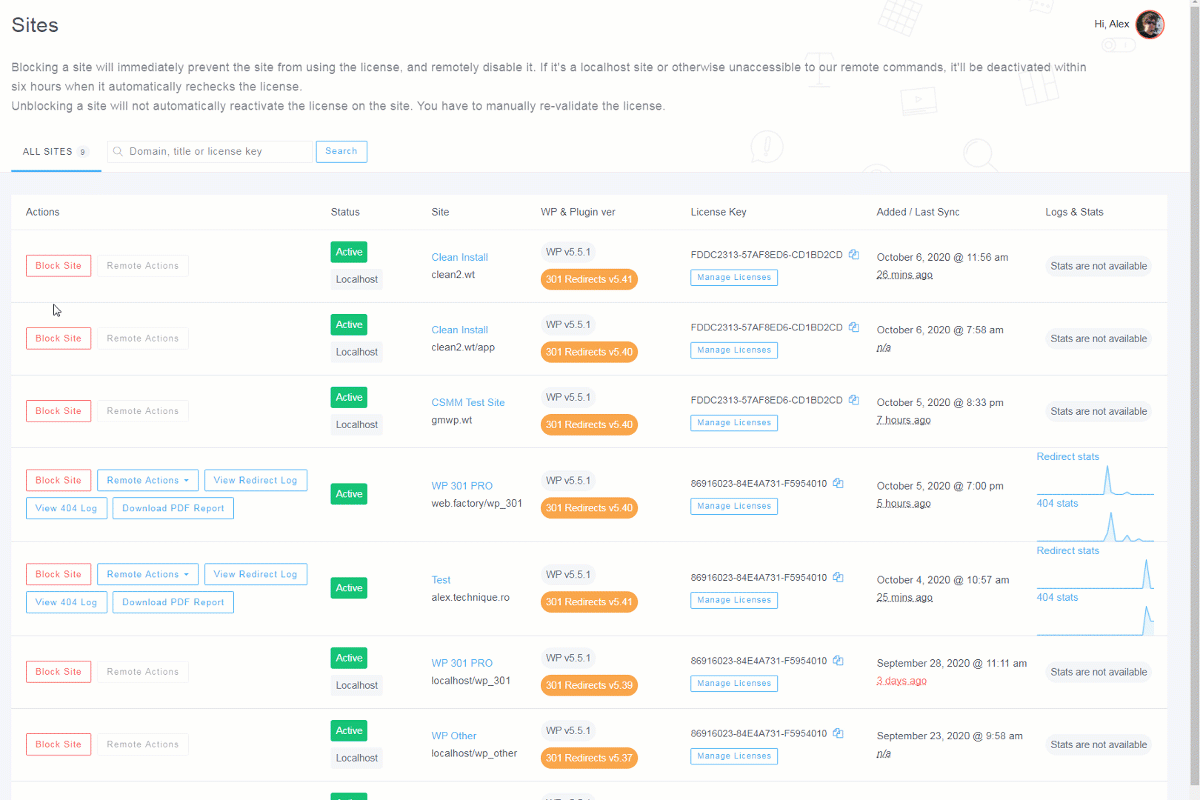 See all your site stats in one place with an easy-to-use dashboard.
WP 301 Redirects lets you remotely monitor sites, sites' redirects, and 404 logs, plus perform remote actions without having to log in to individual sites.
Alternatively, you can also create a keyless site license and install the plugin without entering a license key to get the power of WP 301 Redirects on all your sites.
You'll even be able to fully customize and rebrand the plugin without any coding through brand-specific logos, plugin names, company names, URLs, and contact info that match your business.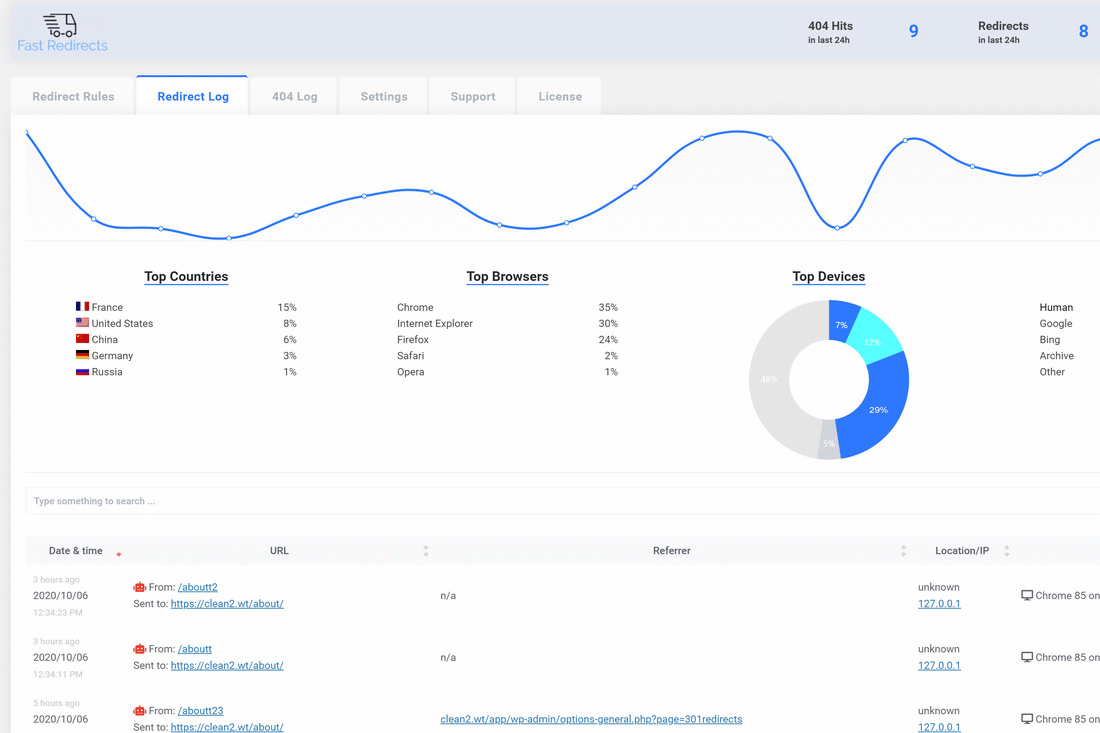 Rebrand the plugin's interface any way you like without touching any code to impress clients!
A 404 error, broken link, or misleading outbound click can ruin your site's SEO rankings and your day. ("An afternoon of fixing links? Oh, boy! Sign me up!")
Thanks to WP 301 Redirects, broken links, dangerous outlinks, and URL typos don't have to cost you potential customers.
Ready to take better care of your site traffic?
Get lifetime access to WP 301 Redirects today!
Plans and Features
Deal Terms

Lifetime access to WP 301 Redirects
All future Team Plan updates
No codes, no stacking—just choose the plan that's right for you
This deal is unable to enhance or reduce between license tiers
GDPR compliant
60-day money-back guarantee, no matter the reason